Optimize Productivity
You've probably heard about the cloud, and there's a reason why. Cloud solutions can provide small and mid-sized businesses with tremendous benefits, removing the barriers of physical infrastructure and creating optimal working opportunities and new efficiencies. The Cloud is now a significant part of IT strategy for growing businesses.
Long gone are the days of huge servers stuffed in a closet and shrink-wrapped software. Cloud services offer easy collaboration for your employees and executives, giving businesses of any size affordable access to sophisticated technology. Our IT consulting team will help you select, install, and optimize the productivity of your business solutions, while providing the services and support you need to keep them functioning at their best. We are cloud champions, and have seen the results when this innovative and easy to use technology is put to use for your business.
With cloud solutions, you will:
Remove fear of lost data when and if your computer crashes.
Improve the security of your information, protecting it from disaster – or theft.
Make your data and applications accessible to employees, so they can work and response no matter where they are.
Enhance team collaboration with shared resources and information.
Find and share the information you need throughout the workday, even when you're gone from the office.
The centralizing features of the cloud will allow you and your employees to streamline your productivity. Perform work when and how you need to, running your most critical business applications and accessing important files and emails from the device you have near you. Cloud technology has also enabled many businesses to replace costly hard copies of their most precious software with Software as a Service (SaaS), ongoing licenses that simplify installation and updates. The Technology Depot IT support team will be on hand to help you get into the cloud; from there, we'll help you maximize how you leverage it, and troubleshoot, when needed.
The benefits of using cloud technology to lower the costs and ease of your day-to-day operations have won millions of businesses over. For businesses of all sizes, The Technology Depot IT consulting can help you determine which aspects of the Cloud will help you reach and surpass your business goals. Once you're using it, we're sure you'll be cloud champions as well.
Select Your Service Level
You can focus your time and resource where they are utilized best. All cloud services include infrastructure service-levels with our 24 x 7 support. If you have no IT resources don't worry; you can focus on your core business and will handle all your IT management. Just add managed services to your cloud services and we will manage everything for you. Plus you get a discount on your cloud services when manage services are added.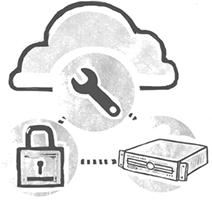 Infrastructure Service Level
Support for the entire infrastructure, host machines, Storage systems, network, and all data center facilities.
Includes engineering services for designing, architecting, and planning your environment.
Migration services for your existing physical or virtual servers to our environment (additional charges may apply for complex migrations).
Includes engineering services were optimizing your applications for performance and security.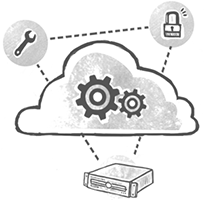 Managed Service Level
Includes all the services that come with infrastructure service levels.
We will help configure your web servers, environment, and DNS.
Fully manage services for all your systems and data.
Customize monitoring to ensure your highest-level applications and functionality are performing.
Full engineering services for system administration, patching, monitoring, troubleshooting, backups and restores.
Service Level Comparison
| Service Description | Infrastructure Level | Managed Level |
| --- | --- | --- |
| 24 x 7 x 365 ticket support | ✔ | ✔ |
| Phone, email, and ticket support | ✔ | ✔ |
| Authentic troubleshooting and verification | ✔ | ✔ |
| Infrastructure and computing support | ✔ | ✔ |
| Networking support | ✔ | ✔ |
| Distributed denial of service (DDOS) protection | ✔ | ✔ |
| Basic guidance for setting up cloud server details | ✔ | ✔ |
| Guidance for setting up multiple cloud server configurations and network | ✔ | ✔ |
| Verify and confirm cloud server details | ✔ | ✔ |
| Cloud server and provisioning management | | ✔ |
| Help installing, configuring, and managing web server software (Apache IIS) | | ✔ |
| Operating system administration and patching | | ✔ |
| Security set up and administration | | ✔ |
| Advance technical support and troubleshooting | | ✔ |
---
To learn more about our Services please call 858.427.4464 or request a demonstration.